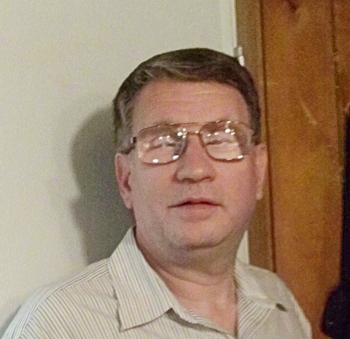 Hello, my name is…
Oh, wait, you already know that.
All right, here are some things you may not already know about me. I'll spell it out in two sections.
Life Events
In July of 1959 I was born in a hospital in a small town in northwest Missouri because I wanted to be near my mother.
Old joke, you say? That's OK. I know about old things because I'm getting to be kind of an old guy.
I was born with congenital cataracts which were removed when I was a toddler–much later than they're removed from babies today. I've had some vision all my life, but for all practical purposes, I'm blind. When someone asks me how much I can see, I like to say that I can see more than you think I can, but not as much as I think I can.
My family moved to southeast Nebraska when I was about six. I spent 10 of my educational years attending what was then known as the Nebraska School for the Visually Handicapped, Nebraska City, NE. In 1977 I graduated from high school in Syracuse, NE.
In 1982 I graduated from what was then known as Grace College of the Bible, Omaha, NE, with a Bachelor's degree in Radio Communications and Bible. Grace is closing their doors at the end of the 2017-2018 school year, so the degree which means nothing to anybody is worth less than that now.
I received Jesus Christ as savior and Lord in April 1976 at the age of 16.
From 1978 to 1988 I was active in the National Federation of the Blind in the states in which I lived. (That was a long time ago; but it colored much of my younger life.)
My wife Carol and I were married in 1983. We have two grown children and two grandchildren.
We taught our children at home, with me doing most of the teaching. They've both graduated from Bible college and are pursuing the adventures life has in store for them.
For a year after we were married we lived in Baltimore where I was a rehabilitation teacher for blind adults at Blind Industries and Services of Maryland.
In the 1980's and 1990's I was a radio broadcaster in commercial Christian radio in Pennsylvania and Missouri, where we now live.
In the mid 1990's I operated a small, but unsuccessful business for selling greenhouse grown produce to local grocery stores and restaurants.
Much of my time from late 2007 through 2017 was spent maintaining DestinySurvival.com, a site on preparedness and survival. I have also written for a blog I've called An Eclectic Pilgrim's Blog, featuring Christian devotionals and commentary. I'm in the process of moving that material to this site.
I'm a member of a writer's group called Behind Our Eyes and am one of 65 authors featured in Behind Our Eyes, A Second Look. Occasionally my writing appears in Magnets and Ladders, an online magazine for writers with disabilities.
Outlook and Interests
I love the Lord and His holy word, the Bible. I want to know both His book and its Author more than ever.
My general aim in life is to steer receptive individuals to truth and motivate them to live according to that truth. My desire is for people to know and live by Scriptural truth and to have an understanding of the world in which we now live.
These reasons are why I was in Christian radio. It's why I home schooled our kids. It's why I wrote content for the blogs mentioned above.
It's also why I and my wife are active at Northwood Baptist Church, Columbia, MO. I enjoy operating the sound board during services and maintaining the church web site.
I love to learn. I'm an avid reader and wish more of us were. I read a wide variety of materials.
I believe it's wise to know about our present reality by spending time each day perusing news online from what some call alternative media. Be aware, things are not what they seem.
The important things in life for me take place between my ears. I'm not good with many hands on physical tasks.
I enjoy solitude. A little contact with other people goes a long way. I get along better one to one, rather than in a crowd.
The key reason radio and podcasting attracted me is because each is a one on one medium. Doing my online sites and blogs is like broadcasting in that sense, however the message reaches those who seek it.
I like to think of myself as a conduit for information because I enjoy passing along what I glean from other sources.
I'm not a teacher in the strictest sense of the word. However, I do hope others learn through the content I present.
I don't want to put my talents behind things I'm not comfortable supporting, which was my biggest beef when working in commercial Christian radio.
Radio listening and ham radio are also among my interests. I'm a member of the Central Missouri Radio Association, where I help to maintain the web site.
My musical tastes can be described as AOR–all over the road. I like a little of everything, but not much of anything.
The same principle applies to talk radio. While I listen to a little of this and that, I don't have the stomach for most of it.
I do a little gardening, too. I'm a proponent of healthful eating and organic agricultural practices. However, I don't always practice what I advocate.
You might have noticed I have a quirky sense of humor. I hope I can make you laugh now and then. The Bible says laughter is good medicine. We can all use a little more of that.
OK, the above paragraphs tell you more about me than you may have wanted to know. Now, to understand what this site is about, see the Start Here page.
Thanks for stopping by. If you like what you see on this site, tell a friend.
John